Students fabricated a Flexible PCB for wearable device design @Design & Innovation Lab - IIIT Delhi
In collaboration with Weave Lab and DI Lab at IIIT-Delhi, three of us from B.Tech (Batch of 2022) were successfully able to print a circuit onto a flexible copper clad kapton sheet by simply using a vinyl mask, nail-paints, and ferric chloride solution. This is the first time anyone has done that here at our institute and the three of us are proud of providing this technique to our fellow lab-mates.
The process we followed was a bit complex but it could be easily achieved in a lab setting. To construct the flexible PCB, we precisely cut a vinyl mask for the design (using a laser cutter) we wanted to print and pasted it onto the copper clad kapton sheet. Then, we applied nail-paint into the spaces of the vinyl mask such that the nail-paint provided cover for the design that was finally going to be in place after all the copper was etched away. Finally, we cut the required size of the sheet (with the nail-paint on it) and submerged it into some ferric chloride solution to etch away the unwanted copper. We constantly stirred the solution in order to increase the kinetics of the chemical reaction and added more ferric chloride powder in case we found that the reaction wasn't progressing forward.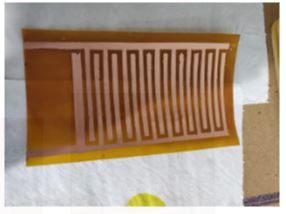 Even though PCB fabrication machines are available for use, they are limited to a certain amount of thickness and rigidness that the PCBs can have. This process of fabricating the flexible PCBs removes these limitations to a great extent and we hope students can now use these flexible PCBs to make new innovations in the projects they are involved in.
---